UNTIL FIRST LIGHT | SYNOPSIS
Until First Light follows an unnamed protagonist returning to his childhood home following the suicide of his brother. The man struggles with loss as fall gives way to winter and he reluctantly assumes responsibility for the dying family farm. Featuring a cast of non-actors and shot in available light in Canada's western prairies, Until First Light has an original score by Jim O'Rourke (Grizzly Man, Sonic Youth, Wilco) the big screen debut of singer/songwriter David Bazan (Pedro the Lion) and colour grading by Marc Boucrot (Enter the Void, Blue is the Warmest Colour, Dallas Buyer's Club). Kyle Armstrong's debut feature film.
CAST
Darren Frank . Nancy Sandercock . Sandra Nicholls . Meagan McKague . David Bazan . Blair Brennan . Brad Sime . Amanda Wiebe . Beth Wishart MacKenzie . Dale Menzak . Karl Boekhorst
CREDITS
WRITER/DIRECTOR/PRODUCER | Kyle Armstrong
CINEMATOGRAPHY | aAron munson
ASSISTANT DIRECTOR | Dylan Howard
PRODUCTION DESIGN | Ryan Halun/Melanie Raevn Brasch
EDITOR | Hans Olson
ORIGINAL SCORE | Jim O'Rourke
POST AUDIO | Johnny Blerot
COLOR | Marc Boucrot
TECHNICAL INFO
RUNTIME | 82 Minutes
COUNTRY OF PRODUCTION | Canada
LANGUAGE | English
ASPECT RATIO | 1.66 (16:9 pillarbox)
COMPLETION DATE | Summer 2018
WORLD PREMIERE | Middlebury New Filmmakers Festival 2018
Writer/Director - Kyle Armstrong
Kyle is a Canadian filmmaker and artist. Until recently his focus was on creating short, non- narrative films, which have been screened at various galleries, during live performances and in traditional cinemas around the globe. His films are influenced by filmmakers as diverse as Stan Brakhage, Hollis Frampton, Bela Tarr, Alexander Sokurov, Guy Maddin and Andrei Tarkovsky. Armstrong's 2012 short film Magnetic Reconnection received its world premiere at AFI Fest 2012, and was subsequently selected for SxSW 2013, Ann Arbor Film Festival, Raindance (UK), Guanajuato International Film Festival, CPH:DOX, RIDM, Rooftop Films, Seattle International Film Festival, True/ False Documentary Film Festival among others. It won the 2013 Edmonton Film Prize, was shortlisted for the Cinema Eye Honors, took 2nd Prize at the Big Sur International Screening Series and screened publicly more than 130 times worldwide. The film features an original score by Grammy award winning producer/ composer Jim O'Rourke (Sonic Youth, Wilco, Werner Herzog) a voice-over by acclaimed singer- songwriter/ actor Will Oldham and some of the best footage of the aurora borealis ever captured.
In 2012 he was a recipient of the Lieutenant Governor of Alberta Emerging Artist Award. He co- produced Hans Olson's 2014 feature film Figurine, premiered his 2015 dramatic short Abandoned at the Cannes Short Film Corner as part of Telefilm's "Not Short On Talent" program, performed at Sled Island as a collaboration with Mark Templeton titled EXTENSIONS, and recently completed a video for Bonnie "Prince" Billy, available through Drag City Records. He recently completed his first feature Until First Light, and is in production on his second feature film funded in part through Telefilm, Hands That Bind (2019).
Lead - Darren Frank
Darren Frank is a singer, songwriter, musician and actor who makes multiform grownup pop music. Encompassing a wide range of styles, his songs are bursting with melodies that linger and words that sing about the polarities of life. In 2008, he released his Coal To Diamond EP, an eclectic and engaging affair which received some positive reviews and put Frank on the radar. In 2010 released his first full length album entitled That Lived-In Look, recorded at the Physics Lab with engineer/producer Terry Paholek.
Darren has been asked to share the stage with Chad VanGaalen, Frank Black, Destroyer, Brett Dennen, Adrian Belew and has showcased at such festivals as Sled Island, New Music West, WCMA's, and CMW.
Until First Light marks Darren's first lead role.
Actor - Nancy Sandercock
Nancy Sandercock's work embraces the companion disciplines of dance, music, visual art, experimental film and yoga. As a dancer and choreographer, she's performed for or collaborated with many artists in Canada and the US: John Fleck (NEA 4), Yvonne Rainer, Mike Kelley, Brian Webb, Melinda Ring, Sam Kim and Meg Wolfe; Lola McLaughlin, Mari Osanai, Anne Troake and Mile Zero Dance. As a musician, Nancy co-founded alt-sound projects Polar Goldie Cats, Püss, and Hot Tinkle. She collaborated on found sound/electronic soundscores for her dance work with noise artists like Rick Potts of Solid Eye and Bobb Bruno of Best Coast. PGC toured with avant-rockers Wilco, The Geraldine Fibbers and Unwound and performed at All Tomorrow's Parties curated by Slint. Nancy holds a B.F.A. in Dance from California Institute of the Arts and an M.F.A in Theatre Practice from the University of Alberta, where her thesis on ineffability and intermedial performance was supported in part by a SSHRC scholarship. Previous collaborations with Kyle Armstrong include her 2015 performance/installation, frost flowers/arctic death machine, and what awaits me, for the Brian Webb Dance Company. She's also featured in Kyle's short film, Abandoned, with Susan Kent.
Director of Photography - aAron munson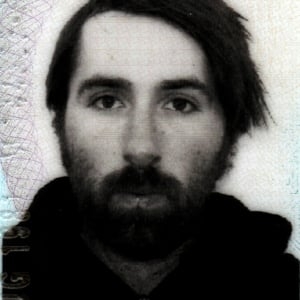 aAron munson is a Canadian multimedia artist, filmmaker, and cinematographer. His work has taken him from his studio, to war zones, high-Arctic weather stations, reindeer nomad camps in Siberia, and the Arabian Desert. aAron's projects tackle extreme human experiences in documentary and dramatic form. munson is also a collaborator with many different visual and audio artists on a variety of projects ranging from music videos to gallery installations. His use of both analogue and digital mediums creates a unique aesthetic that draws on the history and physical malleability of film, while exploring the possibilities of emerging technologies in digital filmmaking.
Recent cinematography contributions include the CBC Nature of Things series Equus - Story of the Horse, the National Film Board Doc Lab Saskatchewan, and the NFB feature documentary, Memento Mori.
Editor - Hans Olson
Hans Olson is an Edmonton filmmaker with a passion for documentary and narrative cinema. Figurine is his first feature drama, which won Best Feature Film awards at the Middlebury New Filmmakers Festival and the online Lisbon International Film Festival. In 2012, he directed The Auctioneer, a one-hour observational documentary produced by the National Film Board (Hot Docs, CBC documentary, iChannel). He studied screenwriting at Langara College and was a Directors' Lab resident at the Canadian Film Centre in 2009. His short films include Champagne (TIFF, Newport Beach, CBC Reflections, The Movie Network), Baby Boots, Bronwen's Ark and the documentary, Where Credit Is Due. Hans is an alumnus of the Reykjavik Int'l Film Festival Talent Lab and Berlinale Talents and received the Lieutenant Governor of Alberta Emerging Artist Award in 2016.
FUNDERS
Funding generously provided through the Canada Council for the Arts, the Alberta Foundation for the Arts and the Edmonton Arts Council.